Van Baerle Trio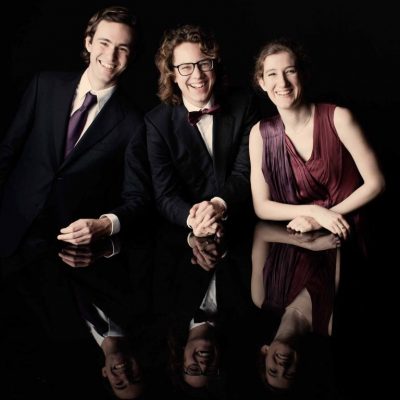 The Van Baerle Trio was founded in 2004 by pianist Hannes Minnaar, violinist Maria Milstein and cellist Gideon den Herder. The trio takes its name from the street where it all started:  Van Baerle Street, Amsterdam. The three musicians met there whilst studying at the Conservatorium van Amsterdam, a stone's throw from the Concertgebouw, which they now consider their musical home.
The Van Baerle Trio was formed under the guidance of Dmitri Ferschtman and received lessons from Ferenc Rados and Claus-Christian Schuster, among others. Their encounter with Menahem Pressler in 2008 was a huge inspiration to the three musicians, who subsequently played for him on several occasions. 
An impressive discography on Challenge Records of French works, followed by a Mendelssohn disc leads on to the complete set of Beethoven piano trios. The projects will culminate in a recording of the Triple Concerto with The Residentie Orchestra conducted by Jan Willem de Vriend to be released in the Beethoven anniversary year.  The first disc of the project in 2018 has already won high praise with Gramophone noting: "The overwhelming quality of this new disc is a quite irresistible freshness; played with an inquisitive spirit, a spring-like clarity and (when necessary) a daredevil verve".